You join a political party. Its rules run to over 100 pages. And that's only for your state division. There is also an overall "federal" party constitution.
Well, do you think. The parties run the parliament, our legislators should be governed by rules regarding the selection of candidates or the expulsion of party members. But are they? Can you ask the courts to make sure that the eminences of your party respect the rules that they write, on the whole?
It's a simple question, but the answer is a mess, thanks to instances of recent high-profile interventions by national party leaders in Victorian Labor and the New South Wales Liberals.
What is going on? This is partly a historical entanglement in common case law (in other words, case law). That's partly because the major parties have decided to upend 30 years of pragmatic acceptance of the obvious answer: serious rules, registered parties, should be enforceable.
---
Read more: Screening and Airdrop Candidates: 3 Reasons Parties Are Overriding Their Local Union Members, Despite Costs


---
Parties as private social clubs?
Ninety years ago, Ned Hogan lost his preselection to run for the Labor Party and was expelled from its ranks. A few weeks earlier, he had been Labor Prime Minister of Victoria. This drama – one of many splits that sometimes tears our parties apart – occurred as the nation was divided over Depression-era austerity measures.
Hogan fought his peremptory treatment all the way to the High Court. In 1934, he decided in favor of the party. Not on the merits, but because he assimilated the parties to any "voluntary association […] trained for social, sporting, political, scientific, religious, artistic or humanitarian interests". Unless the dispute is over possession of property, the court would treat it as a private matter.
Parties as semi-public bodies
Thirty years ago, this decision was circumvented. It has long been criticized for its unreality. A far-sighted Queensland judge, John Dowsett, believed that whatever the mores of the 1930s, modern parties were deeply involved in public affairs. In particular, they register with electoral commissions and receive significant public funding.
Since 1992, various Supreme Court justices in many states have reinforced this conclusion. Party rules formed a contract, binding party members and administrators.
It didn't mean an open splash. First, non-members could not insist that party rules be enforced. (So ​​the parties could easily avoid hostile takeovers). Second, only clear rules, usually procedural, were enforceable. (Thus, statements of philosophy were treated as antics). Internal grievance procedures were to be exhausted and members who filed suits late could be rebuffed.
Finally, the courts have only interpreted the rules, they have not rewritten them. Rules can be democratic or hierarchical. With a caveat: they could not completely oust any role for the courts.
First they came for the boss of the union…
In 2019, Anthony Albanese intervened personally to urgently expel construction union leader John Setka from Victorian Labour. This was in apparent violation of the state party's procedures and misconduct triggers.
Setka challenged in court, but the Labor Party convinced a Victorian judge to go back to 1934 and not hear the case. Few seemed to deplore this judicial washing of hands. After all, Setka has stirred up a lot of controversy in his personal, legal and union life.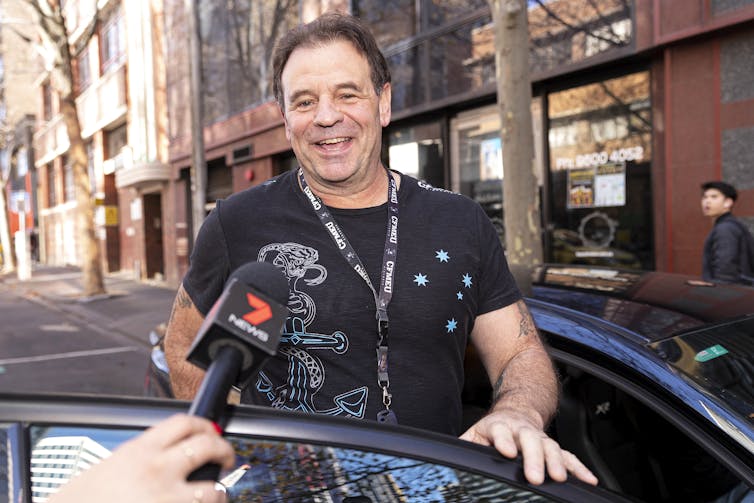 In 2021-2022, the role of the courts has become critical. First, the nationwide takeover of Victorian labor was contested. Then a similar scheme by Scott Morrison in New South Wales was branded a "carpet bomb", by both moderate and conservative Liberal members.
Over the past month, the Courts of Appeal in Victoria, then NSW, have worked out a third way. Law courts should hear such disputes, but only if they are closely linked to certain requirements of the electoral law.
This new approach is very vague. The Victorian court said it covered pre-selections, since parties nominate their candidates through the Electoral Commission. The New South Wales court rejected this finding altogether, suggesting that only matters such as who was the party's voter registration agent were necessarily within the jurisdiction of the courts.
The High Court in a corner
In each case, party members then sought leave to appeal to the High Court. In each case, the High Court last week declined to be involved. Naturally, given the impending election. Sometimes time is running out for all the useful remedies and complex issues deserve careful thought.
Moreover, the merits of the claims were limited. Unsurprisingly, party rules often give broad powers to national executives to intervene, take over a branch and select candidates.
But in the Delphic clues last Friday, two High Court judges temptingly hinted that NSW's very narrow approach was a good one.
---
Read more: Word from the Hill: Court saves Morrison's NSW pre-qualifications, but what kind of campaign will the Liberals run?


---
Associative organizations or top-down electoral brands?
Where do these justices come from? shenanigans leave us? First, until the High Court finds a suitable case to resolve the confusion, members of most states – though not necessarily the two largest – can still seek help from the courts.
Second, parties can increase costs by opting out of court hearings at will. Yet, if a party executive wants the courts involved (to suit its public agenda, or if there is a sub-faction struggle in which the executive has no interest), it does not simply cannot object to a hearing.
Finally, party law in Australia is one-sided and underdeveloped. Parties get perks, from public funding to control of party names on ballots.
However, they are increasingly constructed as simple electoral marks, disconnected from any social base.
Meanwhile, their band of dwindling active members — who pay up to $225 a year for the privilege — have limited say in party affairs. And little reassuring that the courts will help them if they feel repressed by administrators ignoring their own party rules.